AutoCAD 101 Yellow Belt
Face to face public schedule & onsite training. Restaurant lunch included at STL venues.
Virtual classroom training continues. Can't find what you are looking for? Get in touch.
Syllabus
Who is this course for?
This AutoCAD Training course is designed for new users of AutoCAD or AutoCAD LT.
Objectives
The primary objective of this AutoCAD Training course is to teach students the basic commands necessary for professional 2D drawing, design, and drafting using AutoCAD and AutoCAD LT. Students will learn the features, commands and techniques for creating, editing, and printing drawings with AutoCAD and AutoCAD LT. Using hands-on exercises, students will explore how to create 2D production drawings.
Prerequisites
You need to know about drafting, design, or engineering principles; although this knowledge is not essential it would be an advantage.
Benefits
Learn to navigate the AutoCAD and AutoCAD LT user interfaces, use the fundamental features of AutoCAD and AutoCAD LT, use the precision drafting tools in AutoCAD and AutoCAD LT to develop accurate technical drawings and present drawings in a detailed and visually impressive way.
Course Syllabus
Taking the AutoCAD Tour
Navigating the Working Environment
Working with Files
Displaying Objects
Creating Basic Drawings
Inputting Data
Creating Basic Objects
Using Object Snaps
Using Polar Tracking and PolarSnap
Using Object Snap Tracking
Working with Units
Manipulating Objects
Selecting Objects in the Drawing
Changing an Object's Position
Creating New Objects from Existing Objects
Changing the Angle of an Object's Position
Creating a Mirror Image of Existing Objects
Creating Object Patterns
Changing an Object's Size
Drawing Organisation & Inquiry Commands
Using Layers
Changing Object Properties
Matching Object Properties
Using the Properties Palette
Using Linetypes
Using Inquiry Commands
Altering Objects
Trimming & extending Objects to defined boundaries
Creating parallel & offset geometry
Joining objects
Breaking an object into two objects
Applying a Radius Corner to Two Objects
Creating an angled corner between two objects
Changing part of an object's shape
Working with Layouts
Using Layouts
Using Viewports
Annotating the Drawing
Creating Multiline Text
Creating Single Line Text
Using Text Styles
Editing Text
Dimensioning
Creating Dimensions
Using Dimension Styles
Editing Dimensions
Using Multileaders
Hatching Objects
Hatching Objects
Editing Hatch Objects
Working with Reusable Content
Using Blocks
Working with DesignCenter
Using Tool Palette
Creating Additional Drawing Objects
Working with Polylines
Creating Splines
Creating Ellipses
Using Tables
Plotting Your Drawings
Using Page Setups
Plotting Drawings
Creating Drawing Templates
Using Drawing Templates
What you get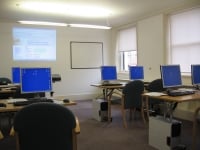 Fully air condition rooms with high-spec PCs
Networking opportunities with fellow delegates
"What do I get on the day?"

Refreshments
Refreshments served all day

Internet
High speed internet access
Learning tools

Reference material
All course training materials

Support
2 months post-course email support