Key Tips For Managing Change
Effectively Managing Change in Your Organisation

People don't like change, but it is inevitable in every area of our lives – especially when it come to the workplace. Companies need change in order to get better at what they do and to adapt to evolving economic and business conditions. And it's up to leaders to get buy-in from staff and stakeholders to make this change happen.

Communicating change

Perhaps the most important job of a leader, when it comes to change, is communicating that change is coming to your people. How this is done is central to the success of the process of change. To be successful, focus on why change is happening, with regards to the benefits for the organisation and the people that work there. Highlight that change is inevitable and it is in everyone's interest to embrace it. Always focus on the positive impacts.

Be prepared for anything

Preparation is a vital part of any organisational transformation. Make an assessment of the existing organisational culture and identify where conflicts might occur during the change process. That way you can put plans in place to deal with them before they happen. But, at the same time, plan for the unexpected too.

Be aware of the human impact

Any significant change within an organisation creates 'people issues', especially when jobs and roles are affected. The first thought that goes through someone's head when faced with change is: 'how will it affect me?' It can be impossible to deal with these on an individual basis without creating a ripple effect throughout the company, so a formal approach needs to be developed and put in place before anything happens. This approach then needs to be fully integrated into the strategy for transformation, so when issues occur they can be resolved quickly.

Changes begins at the top

Personnel will look upwards for support, so this is where change needs to start - at the top. Once leaders and executives can embrace and implement the new approaches, it's then their job to make sure the process cascades down through the ranks. Keep the changes as simple and as straightforward as possible to maximise stakeholder buy-in and continually highlight the benefits.

Incentivise change

Give team members ownership of the change process and put visible rewards in place, such as promotion, recognition and bonuses, for embracing and promoting organisational transformation. Likewise, there needs to be a mechanism for sanctioning, or removing those who act as barriers to the change process.

No single methodology fits every company, but apply the right practices and techniques and you can successfully change your organisation for the better without affecting staff morale. With a course like our change management training course London, learning how to implement change becomes much easier.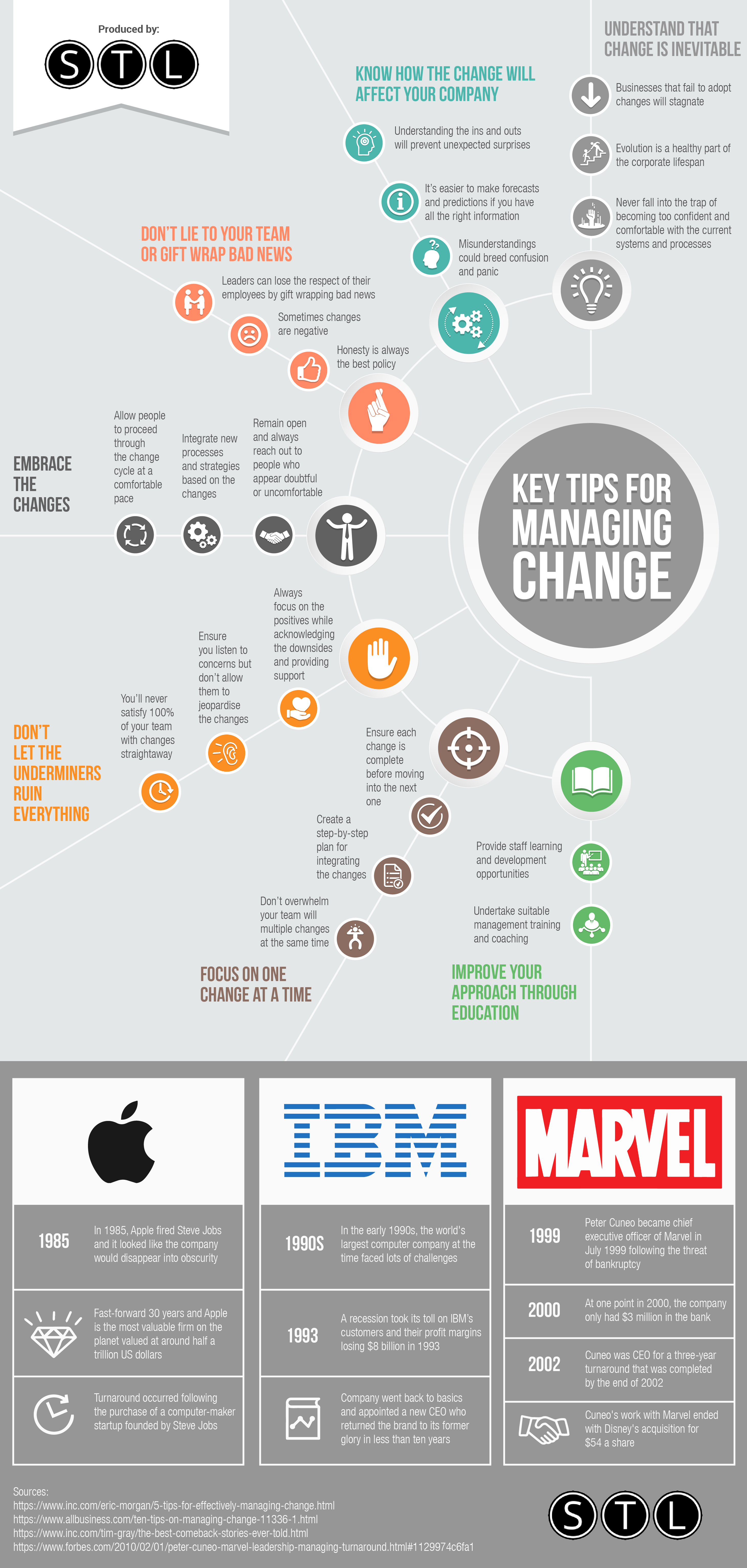 Links:
https://www.inc.com/eric-morgan/5-tips-for-effectively-managing-change.html
https://www.allbusiness.com/ten-tips-on-managing-change-11336-1.html
https://www.inc.com/tim-gray/the-best-comeback-stories-ever-told.html
https://www.forbes.com/2010/02/01/peter-cuneo-marvel-leadership-managing-turnaround.html#1129974c6fa1

Add this to your website or blog
Copy and paste the HTML code to your page.
1000 pixels wide:
575 pixels wide: